Festivals
Our favorite is the Fourth of July in Castine when the whole town comes alive in an outdoor festival of activities. There is music on the waterfront, a costume parade, and traditional games on the common, such as: potato sack races, a town tug of war, and fireworks over the harbor after sunset. There is nothing better than Maine festivals!
When coming to Maine for some of the incredible festivals, stay in our award winning Maine bed and breakfast.
Gardens We Love
June is when the gardens come to life. Please start with ours. In 2000 this was an empty lot without grass; it's been a labor of love.
I would also stroll up the street to the gardens at Leila and Jim Day's. Further afield are the Asticou and Thuya Gardens in Northeast Harbor and Merryspring in Camden. Also visit the Coastal Maine Botanical Gardens in Boothbay. The Abby Rockefeller Garden is also available to visit by reservation in Seal Harbor.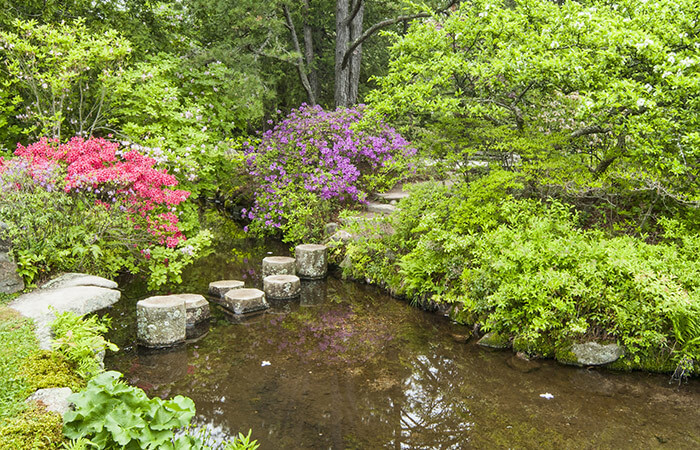 Music
In Castine there is a thriving summer concert series of guest artists. The Pentagoet Inn now has a jazz trio on Tuesday evenings on the porch. The excellent Night and Day Trio perform from 5-8 pm with specialty cocktails, hors d'oeuvres and grilling available. The Castine Town band has five concerts each summer performed in the open air for all to enjoy. They're well worth the flight.
A short hop away is Kneisel Hall in Blue Hill, the home of an international summer camp for classical music protégés since 1907. "Flash In The Pans," a steel drum group from neighboring Brooksville, make regular appearances, as does the Bagaduce Chorale. Not to be missed the annual July 3rd "Blue Hill Pops" concert in Blue Hill. This event features the Bagaduce Chorale singers, Flash in the Pans, jazz luminaries and many other area musicians.