The Pub & Wine Bar at our at our Castine bed and breakfast is open to the public and inn guests most evenings. Serving craft cocktails, local beers, remarkable wines and small plates featuring the best of local ingredients from the farms and waters that surround us.     View our Menu.
You are Invited! Join us in our acclaimed Castine, Maine Wine Bar & Pub.
Book a cozy spot in one of our candlelit intimate first floor rooms or on a warm summer evening there is a table for you on the porch. Bill Zildjian will be at the helm in the Wine Bar. He's our wine guy and a certified Sommelier with a passion for wine. He delights in introducing Pentagoet guests to delicious new discoveries in wine as well as the cherished classics. Most of all he looks forward to matching our small plates and tapas with wines for a memorable experience.
Reservations are recommended as we do get busy and are following all of the CDC recommended guidelines for social distancing. Call us at 207-326-8616 to reserve your table today.
Pentagoet is also available for private parties and local suppers. Special events, wine tastings and wine dinners will be posted on our Facebook page as they are scheduled during the season.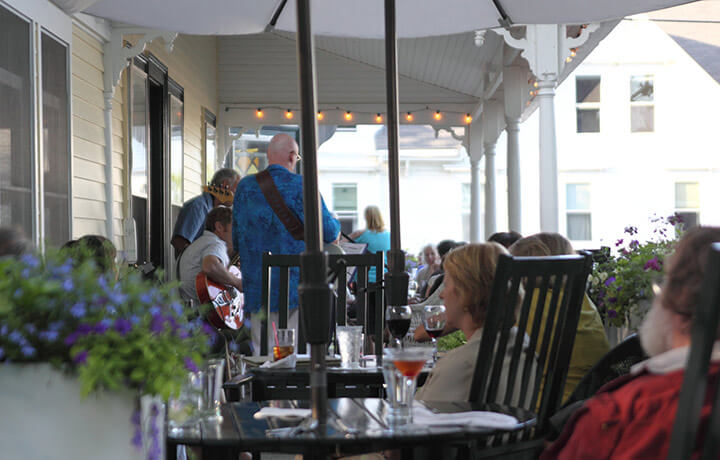 Jazz on the Porch
Once again there will be a jazz trio on the porch Tuesdays July through September. Join us at this weekly event for drink specials, delectable small plates and remarkable music.
Wine Bar Reviews
"Great meals, grand visages in Castine, Maine"
-Barron's
"The Pentagöet is one of the livelier spots after dark in Castine, a wonderfully uncluttered town perched on Penobscot Bay. Both nights of our stay, the bar was crowded and the dining room filled to capacity. We snagged an 8 p.m. reservation for dinner on Saturday, the last available for a late-in-the-day request. We were glad to have gotten it. Breakfast was another lovely meal"
-Boston Globe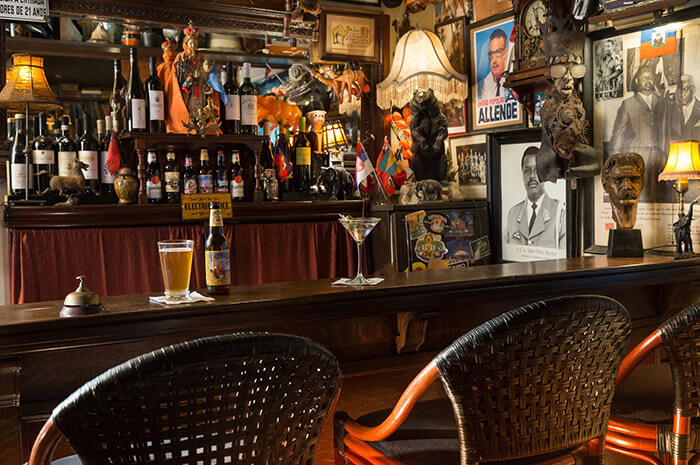 A cozy, old world hideaway with a small oak bar, the pub is an eclectic, ceiling-to-floor mix of vintage photos, paintings and memorabilia from travels abroad. An early watercolor of Venetian gondolas hangs between a three-foot oil of Lenin unearthed in a Tajikistan flea market and a large sepia portrait of Gandhi, courtesy of the Indian embassy in Zaire. Our Maine bar was featured on the Travel Channel!
Furnished with antiques, Malaysian rattan, empire sofas and slowly turning ceiling fans, it's a room that celebrates storytelling and adventure. It fits well in a town whose colorful history is rich with political upheaval and foreign intrigue.
The Baron Pub and Wine Bar is the perfect place to start your evening with a glass of wine or one of our signature cocktails. There is an extensive wine list, local and international beers, and a full bar. The pub has several tables for enjoying small plates from the wine bar and perhaps a "wee dram".
Pub Reviews
The Pentagoet, and specifically The Baron Pub and Wine Bar, was recently featured in the Maine Magazine article "Castine by Pentagoet". The article's author Sandy Lang writes, "I've long been intrigued by the Pentagoet and, particularly, its appealing first-floor pub…[we] decide to remain in this room for the rest of dinner talking of explorers, elites, scientists, czars, and scoundrels". Read the whole story at Maine Magazine.