Inn History
"The Pentagöet is the queen on the hill, a lovely Queen Anne Victorian overlooking Penobscot Bay, where the foodie traveler can escape from the world." High praise for our historic, Down East Maine bed and breakfast in Castine, Maine, from the Huffington Post. The Pentagöet Inn was built in 1894 and is Castine's oldest, original "summer hotel," continually welcoming guests of Penobscot Bay for over a century. It is beloved by the town as well as travelers from around the world.
The town's present serenity belies its turbulent past. Founded in 1613 as a French trading colony, the village later evolved into the first permanent settlement in New England. The Dutch, French, English, and Americans all fought for a foothold on this lush peninsula. It wasn't until the late 1800s that Castine was able to settle down and prosper. Born of a deep-water harbor with a shipbuilding past and East India trade, it became the second wealthiest port in America. The legacy of those days lies in the gracious architecture you'll see throughout Castine today. Taking the the scenic "Walking Tour of Castine," a self-guided journey by the Historical Society that outlines more than 50 historical sites, museums, parks, and distinguished homes, you'll soon discover the truth in the words from the Washington Post—"Castine has a telluric pride coupled with a wisdom that some of the best moments in a human life are the simplest ones."
In summer 2022, Matt Powell & George Trinovitch, alongside Monica Powell as a financial advisor, took ownership of the Pentagöet Inn, carrying on the torch that Julie Van de Graaf and Jack Burke held for 22 years. Both from New York, Matt comes from a background in high-end restaurant hospitality & marketing, and George has worked in the interior design & art restoration field. The team is thrilled to steward this eclectic & historic property and captain it into its next chapter, as a vibrant part of the Castine community and as an unforgettable vacation experience. We're also delighted to have already received some glowing press accolades! We look forward to welcoming you for a getaway in Maine you'll always treasure.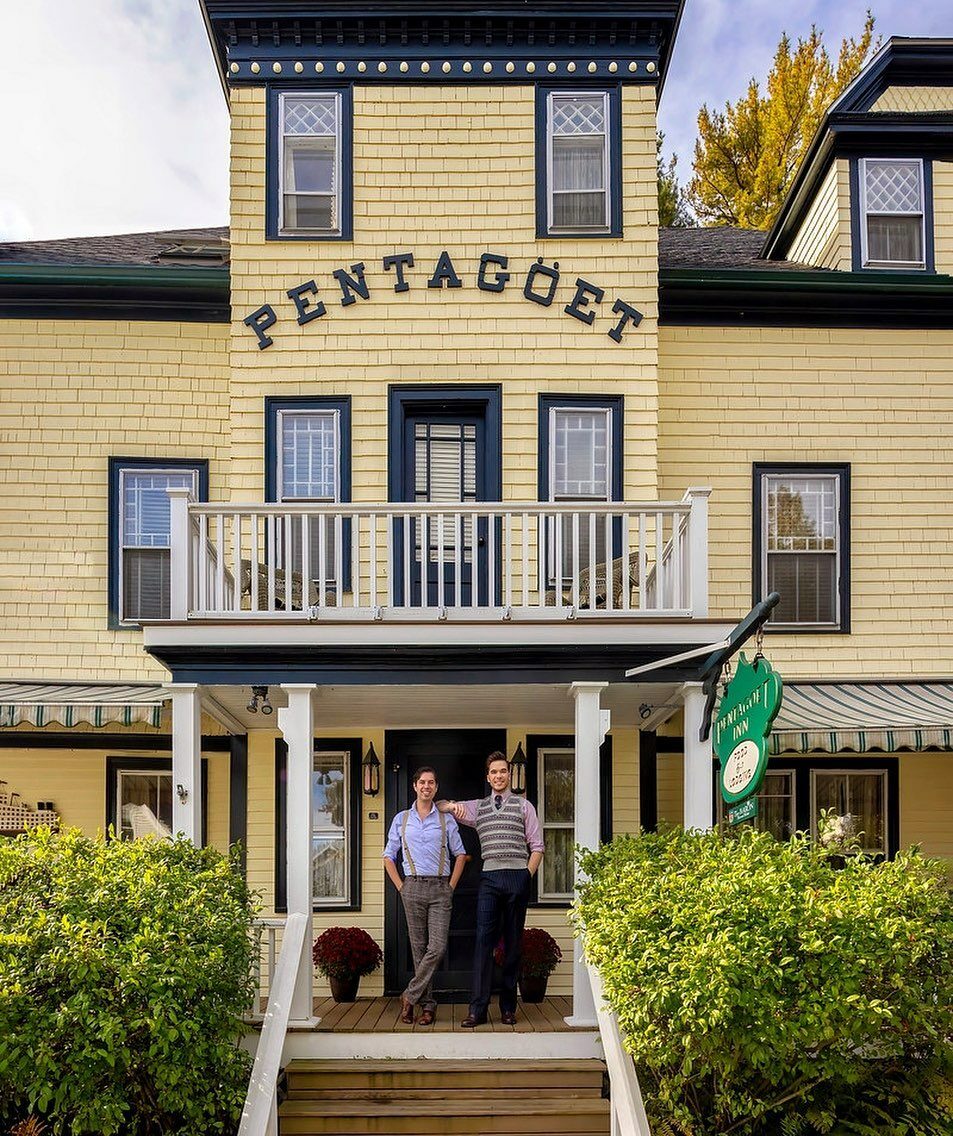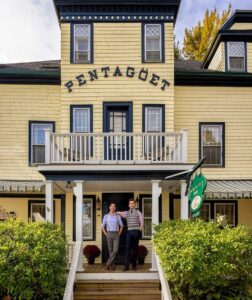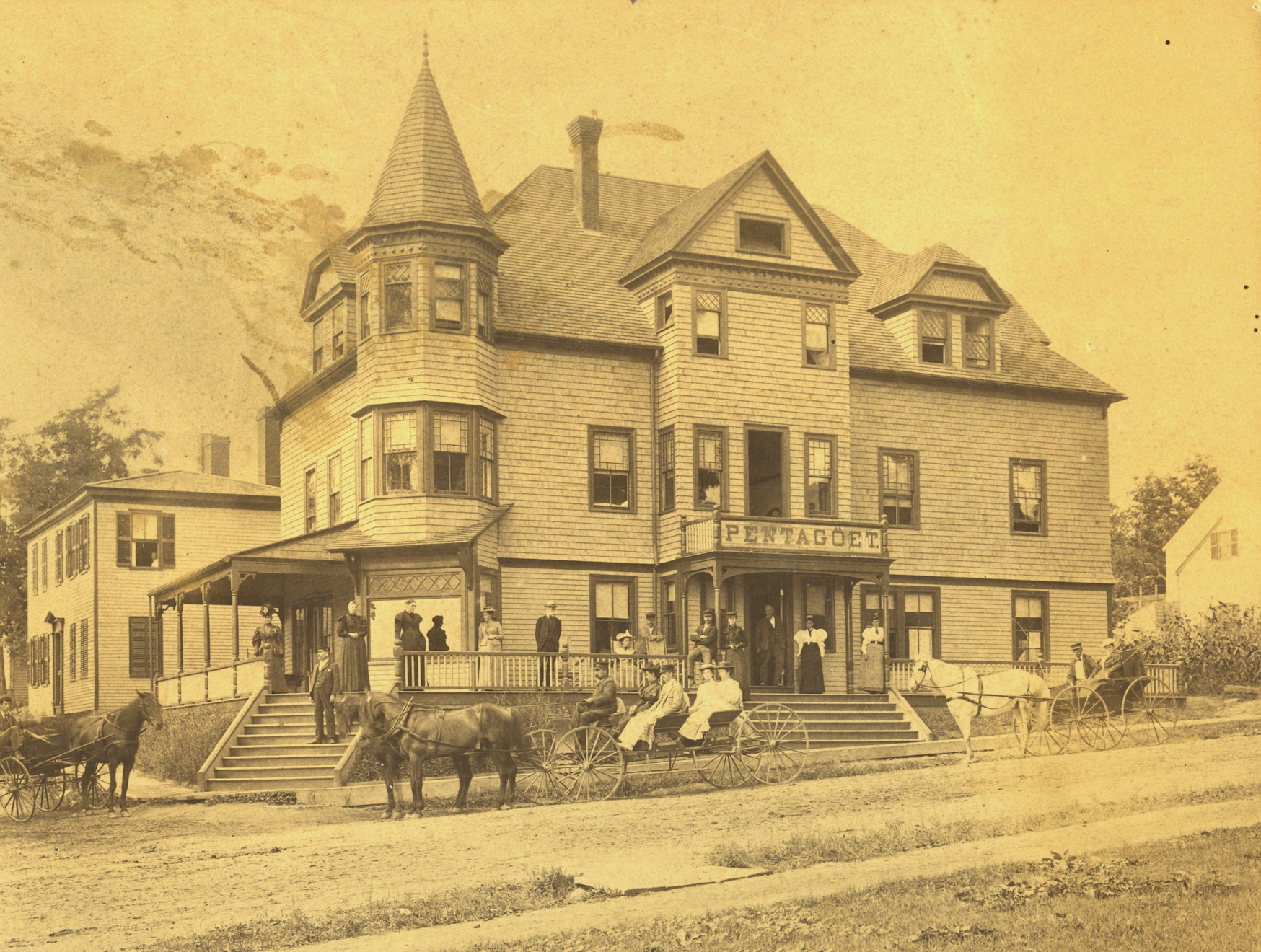 Our Garden
Begun in 2001, the woodland garden at the Pentagöet Inn features native shrubs and shade perennials with a long season of interest, something fragrant and blooming from February through November. From the garden's inception we have been committed to organic gardening practices, using compost rather than chemicals. Some of the herbs and edible flowers that we grow are used for the restaurant. The garden is full of pollinators, birds, butterflies, even a few resident toads in our village setting.
Native witch hazels bracket the garden's activity. A collection of fritillarias extends the Spring bulb season into early summer, while an emphasis on foliage represented by traditional woodlanders, balances the high summer color of annuals in window boxes and container plantings. Native Cimicifuga (Actaea) racemosa buds in late summer, then flowers well into autumn with American delphiniums , perennial prairie petunias, and self-seeding gauras. Autumn crocuses and colchicums sparkle beneath the colorful foliage of native aronias and shadbush.
Stroll through our beautiful gardens to discover native perennials that flourish in the unique climate of coastal Maine. We hope you'll visit; there is much to enjoy.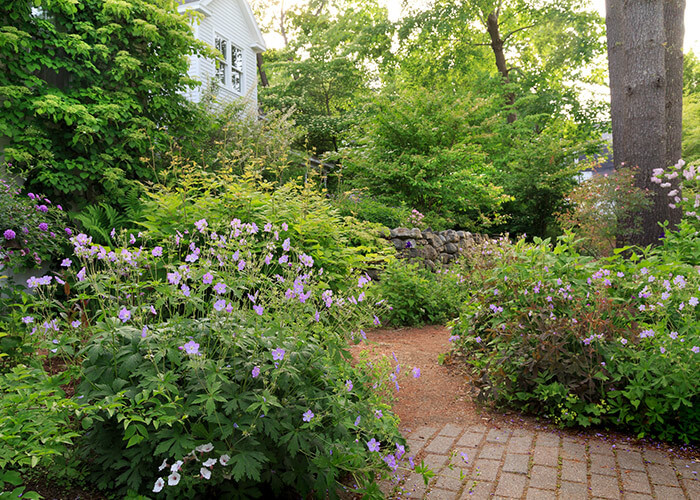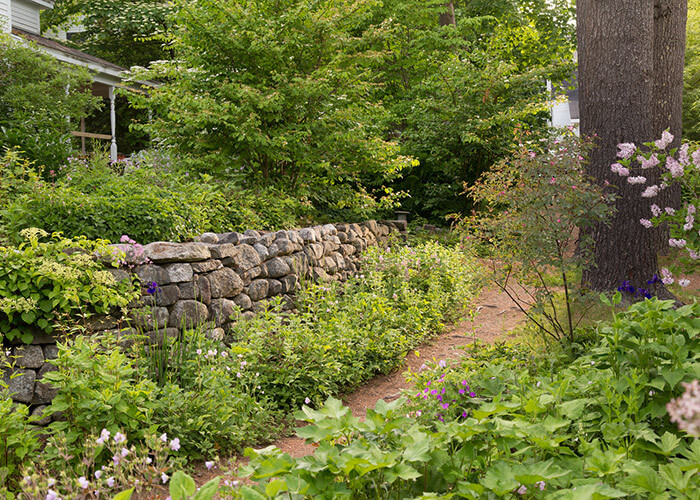 Directions
Below are the directions to Pentagöet Inn, our lodging near Acadia National Park. With so many area activities, many of them focusing on outdoor experiences, our Maine Coast bed and breakfast will beckon you back again and again.
GPS Coordinates: Lat 44.388264 Lon -68.797780
Route: Boston to Castine
I-95 North – Boston to Portland
I-295 North – Portland to Augusta
Rte.3 East – Augusta to Belfast
Rte.1 North – Belfast to Bucksport
Rte.166 South – Just East of Bucksport through Orland
Into Castine, Main Street is left after Bangor Savings
26 Main Street – Corner of Main Street and Perkins Street
Route: Bar Harbor to Castine
Rte.3 & Rte.1 – Bar Harbor to Orland (near Bucksport)
Rte.166 South – Just East of Bucksport through Orland
Into Castine, Main Street is left after Bangor Savings
26 Main Street – Corner of Main Street and Perkins Street
Route: Bangor to Castine
Rte.15 – Bangor/Brewer to Bucksport
Rte.1 North – Bucksport to Orland
Rte.166 South – Just East of Bucksport through Orland into Castine, Main Street is left after Bangor Savings
26 Main Street – Corner of Main Street and Perkins Street