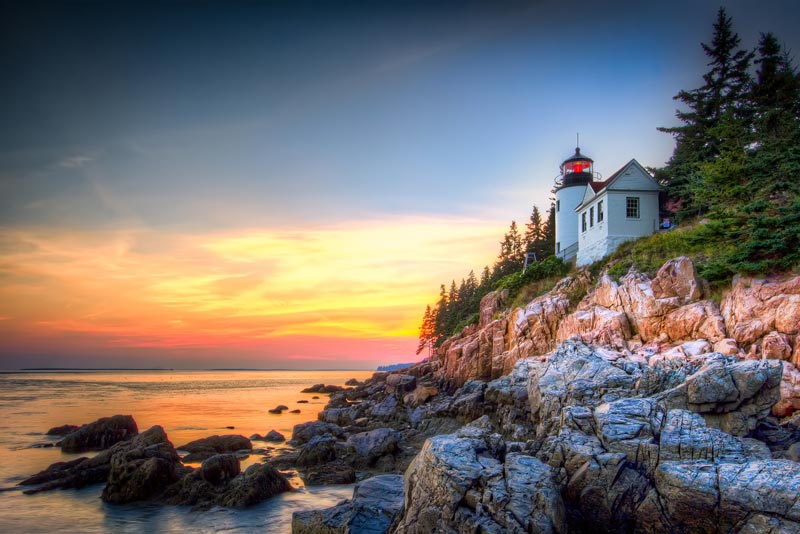 The Maine coastline bristles with beautiful and historic lighthouses, both active and retired. Pentagöet Inn, our Castine bed and breakfast, is surrounded by a quite a few them, making us the perfect home base for visiting, touring, and photographing Maine lighthouses.
Maine is famous for its picturesque and iconic lighthouses. In fact, visiting them is easily one of the top ten activities for visitors to our state. And who can blame the lighthouse enthusiast? There's just something magical about these towering sentinels by the sea. Visually striking coastal structures perched high above the waves, their piercing lights guiding mariners safely to harbor.
Lighthouse enthusiasts staying at Pentagöet Inn will be thrilled to learn that there's a historic Maine lighthouse within walking distance of our Castine inn, and many others nearby. In fact, with so many lighthouses in the area, it's very easy to plan a quick trip or a even a full day trip to see one or more of them.
The list below sorts the area's lighthouses into two categories: those within an hour or less of our Castine B&B, and those further off.
Nearby Maine Lighthouses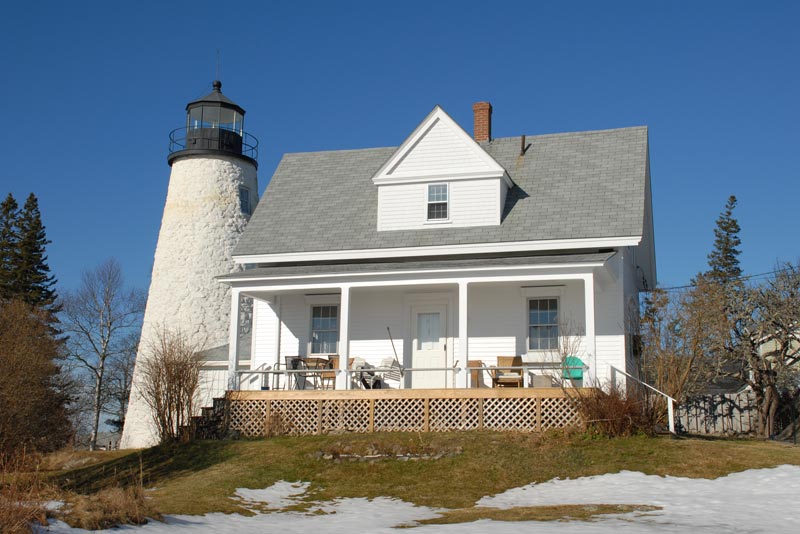 Dyce Head Lighthouse – Castine
The 1829 Dyce Head Light, sometimes referred to as "Dice Head" is located just a little over a mile from Pentagöet Inn. An easy and pleasant stroll along the Castine waterfront. Though the lighthouse is closed to the public, the grounds are open during the day. Learn more.
Pumpkin Island Lighthouse – Little Deer Isle
The 1854 Pumpkin Island Lighthouse is located on tiny and private Pumpkin Island, just west of Little Deer Isle, ME.  While the island and its light are not open to the public, both can be seen from the end of Eggemoggin Road. More information.
Fort Point Lighthouse – Stockton Springs
The 1857 Fort Point Lighthouse is located in Fort Point State Park, in Stockton Springs, ME. It is an active light operated by the U.S. Coast Guard and not open to the public. 180 Lighthouse Rd, Stockton Springs, ME 04981 Read more.
Blue Hill Bay Lighthouse – Brooklin
Neither the picturesque, 1857 Blue Hill Bay Lighthouse or Green Island, which it calls home,  are open to the public. Instead, enthusiasts must content themselves with views from the sparkling waters of Blue Hill Bay. More details.
Farther Afield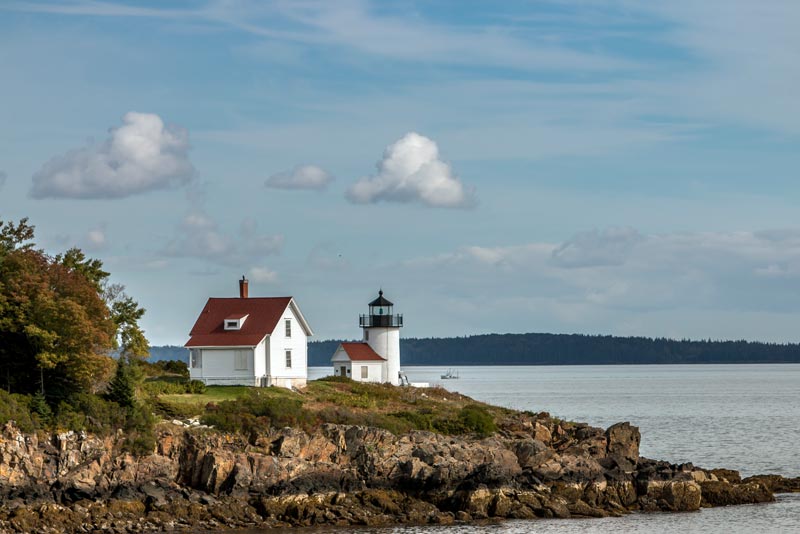 Curtis Island Lighthouse – Camden
The 1896 Curtis Island Lighthouse is located on Curtis Island in Camden Harbor. Though Curtis Island is a public park, the lighthouse is not open to the public. The best views of this light are from the waters of Camden Harbor. Learn more.
Bass Harbor Head Lighthouse – Tremont
The 1858 Bass Harbor Head Light is easily one of the most photographed lighthouses on this list.  This picturesque light guards the entrance to Blue Hill Bay, on Mount Desert Island, in similarly gorgeous Acadia National Park. A recommended day trip from the Pentagoet Inn. Further info.
Indian Island Lighthouse – Rockport
The 1875 Indian Island Lighthouse is located in Rockport Harbor. It is privately owned and closed to the public. Visit Rockport Marine Park or get out on the water for the best views. Read more.
Winter Harbor Lighthouse – Winter Harbor
The 1856 Winter Harbor Lighthouse, another privately owned light, is located on Mark Island. Though closed to the public, the lighthouse can be seen from various points on the Schoodic Peninsula, which is also well worth a visit. More information.
Rockland Breakwater Lighthouse – Rockland
The 1902 Rockland Breakwater Lighthouse is a very unique light, located at the end of a long, stone breakwater off Jameson Point, in Rockland Harbor. The grounds are open all year, from sunrise to sunset, with tours available in summer. Read more.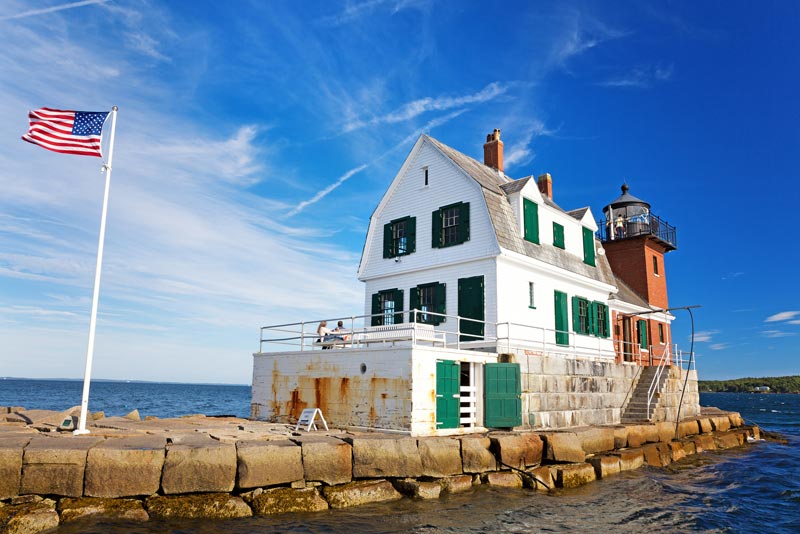 Owls Head Lighthouse –  Owls Head
The 1825 Owls Head Lighthouse is an active light closed to the public in Owls Head Light State Park. Visitors to the park enjoy views of both the historic light and the surrounding islands. Learn more.
Maine Lighthouse Museum and Annual Lighthouse Events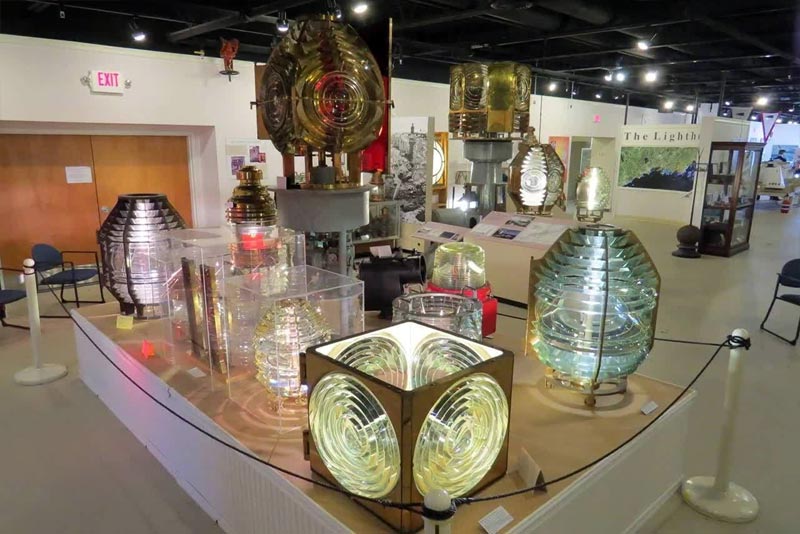 Lighthouse fans will also enjoy a visit to Maine Lighthouse Museum. The museum is located at 1 Park Drive on Rockland's historic waterfront, about ten minutes from the Rockland Breakwater Lighthouse.
The museum is home to a variety of exhibits detailing lighthouse and maritime history through photographs, stories, and artifacts. One of the museum's biggest attractions is their stunning collection of Fresnel lenses, used to focus a lighthouse's light. It's the largest collection of such lenses in the country and, when I say "big" attraction, I mean it. Some of these lenses are 12 feet tall and nearly 6 feet wide!
Those serious about Maine lighthouses may also want to time their visit to coincide with a related event.
Maine Open Lighthouse Day, for example, held every September, offers a rare opportunity to visit and tour over two dozen historic Maine lighthouses, many of which are usually closed to the public. This year's event is scheduled for September 10th, 2022.
Another lighthouse related event is the annual Mid-Coast Maine Lighthouse Challenge. This popular, 2-day event is typically held near the end of June and offers a chance to visit and climb 7 historic lighthouses. These include Dyce Head, Fort Point, Grindle Point, Rockland Breakwater, Owls Head, Marshall Point, and the Pemaquid Point lights.
Spend the day out seeing Maine's glorious lighthouses and scenery, then head back to Pentagöet Inn for afternoon treats or a rejuvenating drink at our Wine Bar and Pub. Perfect!