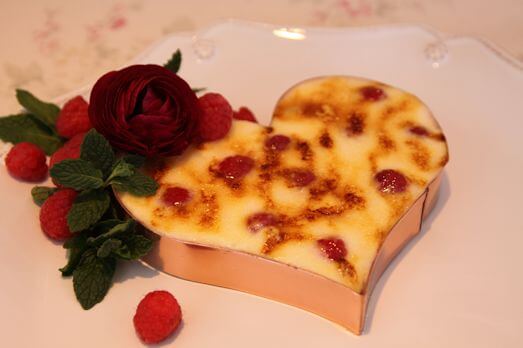 Ingredients
3 yolks
2 eggs
¾ cup sugar
½ cup lemon juice
zest ½ small lemon
4 oz. butter cut in ½ cubes (keep chilled)
½ cup heavy cream
Fresh Raspberries
Directions:
Making the Lemon Curd:
Bring 2 inches of water in double boiler to a boil. Combine the yolks, eggs, sugar, lemon juice and zest in a bowl or top pan of double boiler. Put bowl on top of double boiler and whisk continuously until thick and creamy. Remove from heat and immediately whisk in the 4 ounces of chilled butter until incorporated. Pour mixture through a fine sieve while still warm. Chill lemon curd in the refrigerator until cool, 2-3 hours.
Making the Lemon Cream:
Measure ½ cup of heavy cream, whip until soft peaks form. Measure 1 cup of lemon curd in to bowl with whipped cream. Using a spatula, gently fold the curd and heavy cream until incorporated.
Assembling:
Place seasonal berries in the bottom of ramekin, spread and smooth the lemon cream over the top of the berries. Sprinkle lemon cream with 1 tablespoon of granulated sugar. Using kitchen torch, sweep the flame over the surface of the sugar until it begins to caramelize and turn a light brown. Garnish with fresh berries and flowers to serve.
*Any remaining lemon curd is delicious on scones and pastries!
Williams & Sonoma carries a kitchen torch that is perfect for creating the brulee topping.