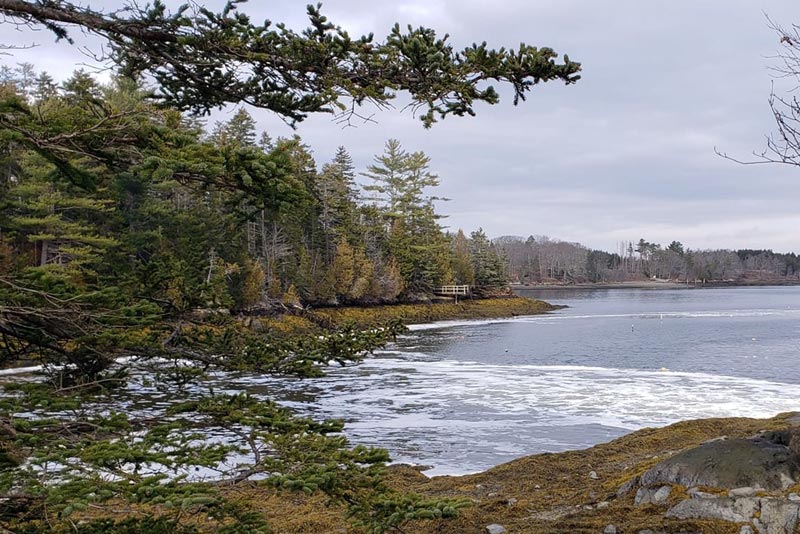 Those looking for a hike or just a nice day out in nature will enjoy visiting nearby Holbrook Island Sanctuary. This gorgeous, protected area offers abundant hiking and wildlife viewing opportunities just across the harbor from downtown Castine, ME.
Maine's Blue Hill Peninsula, upon which Castine rests, is home to a wide variety of hiking and nature opportunities. So many that Pentagöet Inn offers a Hiking Adventures Package with guides and personal reviews of all major area trails.
One of the closest and most popular natural areas near Castine is Holbrook Island Sanctuary. Though the word "island" is in the name, Holbrook Island Sanctuary is actually on the mainland with nearby Holbrook Island some four miles offshore and accessible only by boat. The 1,345 acre park borders Penobscot Bay. In fact, you can see it just across the bay from our inn!
Visiting Holbrook Island Sanctuary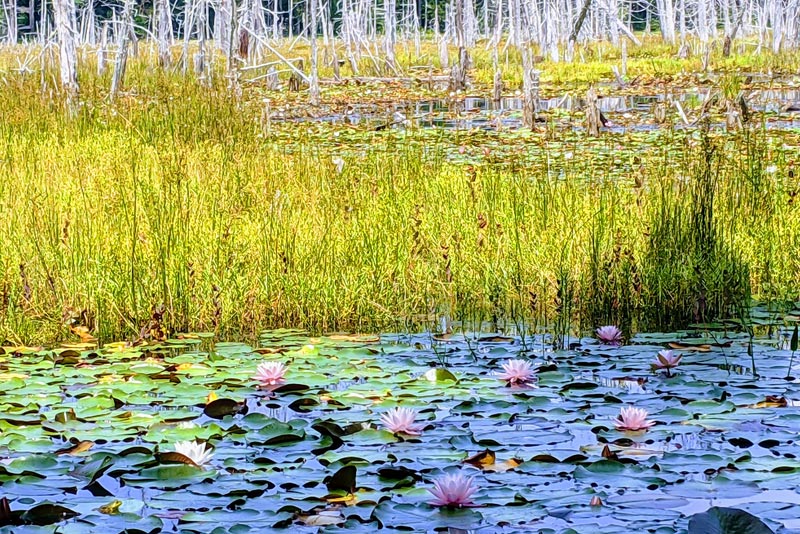 Getting to Holbrook Island Sanctuary from Pentagöet Inn is a snap. The park is located at 172 Indian Bar Road, in Brooksville, ME, around 30 minutes from our Maine Coast bed and breakfast.
The drive is a real treat, taking you past many a farm, overlook, and other attractions as you circumnavigate Northern Bay and cross the Bagaduce River to your destination in Brooksville, ME.
Holbrook Island Sanctuary protects a variety of ecosystems. There are beaches, marshes, meadows, forest land, ponds, rocky coast, and more. Many of the preserve's steep cliffs are actually the remnants of ancient volcanoes. A network of hiking trails provides more than 7 miles of easy to moderate hiking throughout the preserve. In winter, the sanctuary is open for snowshoeing and x-country skiing.
The area is beautiful all year 'round but really shines in autumn when the leaves put on their fantastic color show. In fact, the sanctuary is alive with diverse plants, including a rainbow of wildflowers that bloom from early spring through late fall.
Wildlife enthusiasts will have fun watching for evidence of the preserve's animal inhabitants. Muskrats, beaver, otters, porcupine, deer, fox, bobcat, coyote, can all be found here. Birders come to spot bald eagles, osprey, great blue herons, bay ducks, and others.
Park amenities include parking, bathrooms, picnic tables, and a launch for canoes and kayaks. Holbrook Island Sanctuary is free and open, 9am to sunset, all year round. Visit the sanctuary website for more information. Park trails are also well detailed on Maine Trail Finder.
Spend the day out soaking up Maine's natural beauty, then head back to Pentagöet Inn. We have complimentary afternoon refreshments, like homemade cookies or tarts, waiting for you and don't forget we're also a Wine Bar and Pub. Now that's a vacation!