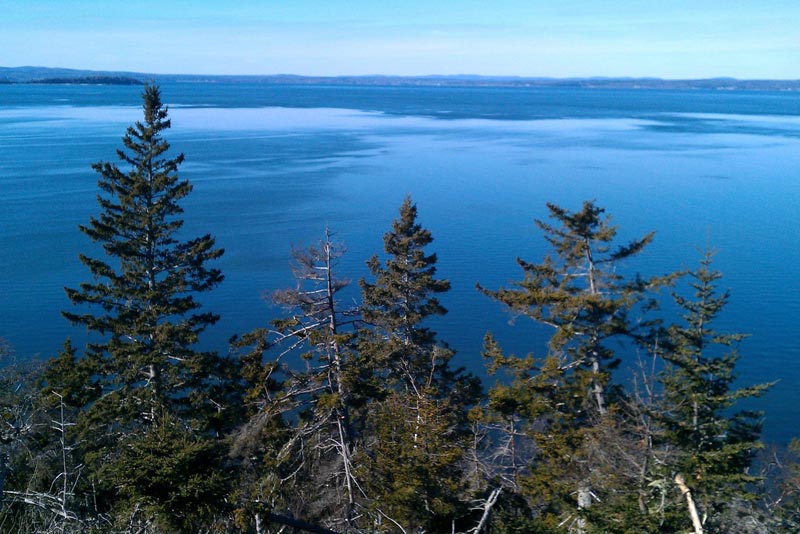 Those looking to stretch their legs while soaking up some of that fantastic Maine coast scenery will enjoy exploring the forested trails of Witherle Woods Preserve. The historic, coastline forest features 193 acres of trails, expansive bay views, historic sites, and all less than 5 minutes from our Castine bed and breakfast, Pentagöet Inn.
The Maine coast is a wonderland of fun things to do and see. Islands, lighthouses, historic seaside villages, shopping, dining, outdoor adventure, and all that gorgeous scenery! So much so, in fact, that you don't have to go very far to find it. Witherle Woods Preserve is a great example of this: 193 acres of wooded hiking trails and stunning views, just 3 minutes from downtown Castine, ME.
Witherle Woods Preserve was created in 1985 when the Hatch family donated 97-acres to the Maine Coast Heritage Trust. Other land donations have added to the acreage over the years, with the most recent expanding the preserve to 193 acres in 2020.
A Little History
Witherle Woods ecological and historic import made it an obvious choice for protection.
In colonial times, the French used the site for a fort, mission, and trading post, with land for grazing, as well as recreation.
Witherle Woods also witnessed some military action over the years. Archaeological research has located the remains of fortifications from both the Revolutionary War and the War of 1812 in the preserve. Blockhouse Point, for example, is both a popular scenic overlook and a historic military site.
By the 1870s, much of the land making up the preserve was owned by George Witherle. Witherle added carriage roads, trails, and picnic areas, then opened the property to the public as Witherle Park.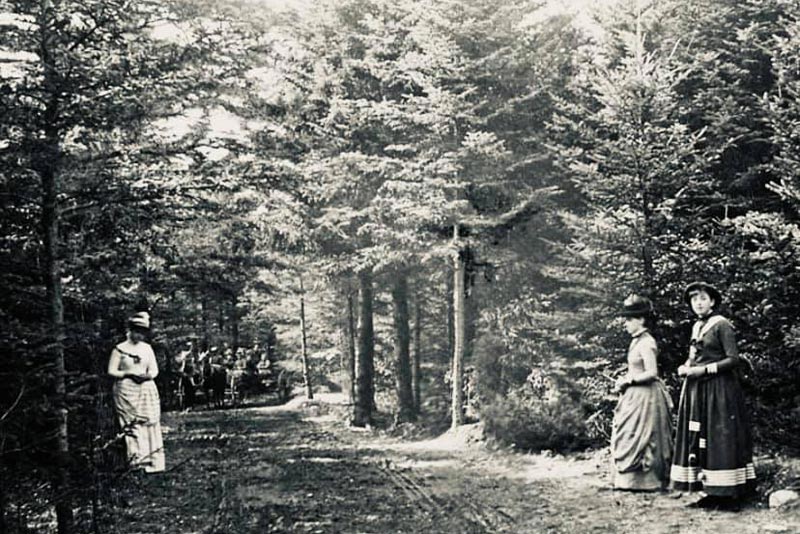 Today, you'll find a forest alive with wildlife and crisscrossed by a trail network leading to scenic views of Penobscot Bay.
Hiking and Skiing Witherle Woods Preserve
Witherle Woods Preserve offers 3.7 miles of hiking trails, most of which are wide and easy to walk. Better yet, once the snow flies, the trails are groomed for cross-country skiing. Fun!
To reach the preserve from Pentagöet Inn, take a left on Main Street and head northwest to Battle Avenue. Take a left on Battle Avenue and follow it for a half a mile. The turn off for the Witherle Woods parking lot will be on your right, just past the town reservoirs.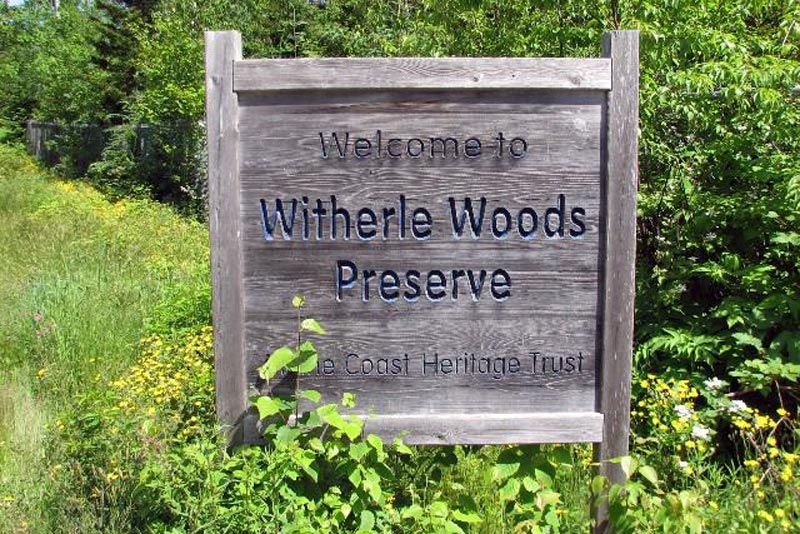 Inside the preserve you'll find a wealth of natural and historic attractions. Today, Blockhouse Point is just a popular scenic overlook on Penobscot Bay. During the War of 1812, however, this strategic location was the site of a British fort. You'll also find the earthwork remains of Fort George here, built and successfully defended by British forces during the Revolutionary War.
Other historic highlights include the Forward Battery from the Revolutionary War, a Lookout point, and two, semi-circular batteries built by British during the War of 1812.
Natural attractions include the views, the lush forest, and lots of wildlife. A bird survey completed here in 2009 found 48 species. Those sighted included "edge" species like white-throated sparrow, northern parula, black-throated green warbler and winter wren. You may also spot osprey, eagles, and seals in the preserve.
Some 195 plant species fill the forests and open areas. Red and white spruce, white pine, balsam fir, and stands of hardwood. A few of the trails even lead down to the water's edge. The climb is a bit steep but the views and experience are worth it.
Learn More
Witherle Woods Preserve is open all year-round. Maps of the preserve's trails are available online and onsite at the trailhead. Learn more at the Maine Coast Heritage Trust website.
Spend an hour or two exploring the natural and historic wonders of Witherle Woods, then it's just a 3 minute drive back to your room at Pentagöet Inn.
Rejuvenate with some complimentary afternoon refreshments made fresh daily by our pastry chef or swing by our Wine Bar & Pub for a relaxing drink. Fantastic!